It's been another exciting year at Fully Charged Live for the BP Chargemaster team, with special announcements and plenty of electric vehicle charging throughout the weekend.
BP Chargemaster were happy to be back alongside the Fully Charged team as Experience Partner once again, as well as talk about the future of electric vehicle charging with over 10,000 visitors across the 3-day event.
Here's a breakdown of BP Chargemaster's Fully Charged Live experience for 2019.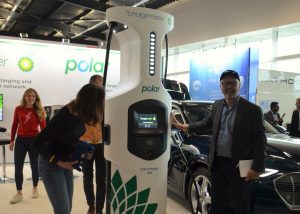 150kW charger officially launched
We started off this fantastic event with a special unveiling of our brand new 150kW charger, set to be installed on BP forecourts across the country.
The new unit was unveiled on the Friday by Fully Charged hosts, Robert Llewellyn, Jonny Smith, Helen Czerski and Maddie Moate, and was on display throughout the event.
Installation of the latest BP Chargemaster charger is set to begin from July onward, as announced by Chief Executive of Downstream BP, Tufan Erginbilgic, at the Powering The Charge conference last month. 400 chargers are planned to be installed across the UK, with the first 100 set to be installed at 50 sites by the end of the year.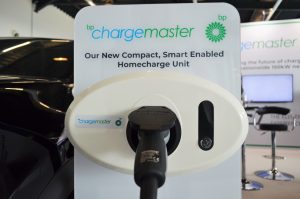 Introducing Smartcharge
Also on display was our new Smart enabled Homecharge unit, set to be released in July. The new unit will allow drivers to monitor and control their charger directly, as well as schedule and track their charging through the app.
We currently have over 30,000 Homecharge customers, many of which we were able to meet at Fully Charged Live, and we hope that this new upgraded unit will make charging from home even easier and cost effective.
The new unit will be available from July onward and will be eligible for the OLEV grant.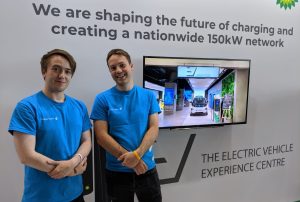 The EV Experience Centre
It was great to be joined by the team from the EV Experience Centre in Milton Keynes, the first electric vehicle education centre in the UK aimed at helping drivers discover electric vehicles for themselves while also busting some EV myths.
The team were a big help in supporting the BP Chargemaster team across the busy 3-day event, and also provided the coveted Kia e-Niro on display on the BP Chargemaster stand. The Kia e-Niro is now available at the EV Experience Centre for short term and long term test drives.
Supported by BP Chargemaster, the EV Experience Centre is approaching it's 2nd birthday and recently reached the fantastic milestone of 100,000 visitors.
Fully Charged Live is sadly over for another year but the BP Chargemaster team are looking forward to being back next year.